Never seen this around so I'd thought I'd post it here. Director that made this made the early Persona games. Long story short, the entire world you are in is in sort of a Groundhog Day style brainwashing virtual world scenario in which everyone no matter their age is a high school student. Once a person "graduates" they instantly go back to the entrance ceremony having all memories of their time there wiped. The world was created by the idols known as Mu and Aria in order to grant happiness to people who are less fortunate in life. Thanks to some meddling by people called the Ostinato Musicians, Mu seperated with Aria and begins to brainwash the populace. Most of the enemies in the game are students you encounter whilst wandering through the hallways, who upon hearing the idol Mu's song will become digiheads and attack anyone not under Mu's influence which is yourself and your party.
For reference:
Agino Evolution HD's playthrough video. Shows the graduation to entrance ceremony transition, in which your character realises the nature of the world and some of the fights in the game.
Graduation to Entrance: 1:53 to 3:57
Digiheads (Those Already Brainwashed): (9:10 to 10:05)
And also, here's an image of Mu in her normal form.
She does get corrupted later down the line thanks to a genderswapped evil person named Thorn, which makes her the final boss. Unfortunately, there's no images of that, though I'll link AginoEvolutionHD's final boss video for reference.
Mu's appearance: 14:50 onwards.
And the game just got a reboot with new stuff in Japan. Hope it gets translated and brought to the west.
I had heard of this game. Someone on an imageboard was shilling it all over Persona topics (P5 was freshly released in america at the time). Mostly seemed like nonsensical stuff, and the gameplay didn't really seem appealing.

Though I hear the Caligula anime may be doing somewhat decently right now. At the very least, people have a higher opinion of that than they do the P5 anime right now.

DoubleEdged




Posts

: 2302


Join date

: 2012-04-29


Age

: 34



Yeah, the anime seems to be a bit more well recieved. Probably because it gives the main character an actual name and shows his life when he was brainwashed and before he breaks out of it. Then sicks those friends he had when he was brainwashed on top of him once he realises the world isn't what it semms.
As for the reboot in Japan on console, it seems to be much better than the original game. Battles actually have a field of effect now, so you don't deal with wonky camera angles. A female protagonist is added, alongside two new members to both the heroes and the villains with fleshed out story and boss battles. Also brand new, is the fact that you yourself can become corrupted and enticed over to the Ostinato Musicians and join them as a double agent.
The new persona you make for yourself is named Lucid, and looks like this regardless of gender.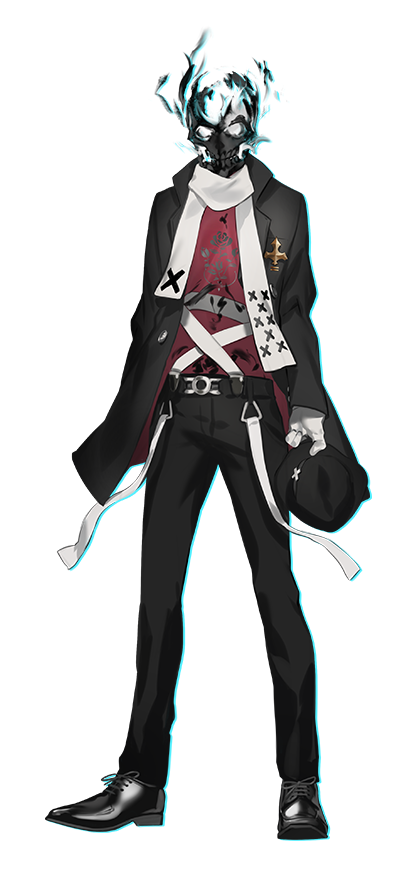 And technically it does count as corruption, since you fight your friends in sets of two alongside the musicians, and eventually can defeat them all in one final fight. In the game, you can go down this route, but it is up to you when you wish to stop, as you can after almost every mission. If you continue though.....you become the final boss.
Oh and the main protagonist has his own brainwashing song since he/she joins the Musicians, and all of them have one to control and manipulate the digiheads. Either way, much better than the original game so I hope it gets translated.
That corrupt Mu design is pretty great, especially when you add in the brainwashing powers.

ZeroStormZZ




Posts

: 1015


Join date

: 2015-11-03


Age

: 25



She does the mind control either way, thanks to the Ostinato Musicians manipulations and her immature personality. In the anime, it's a bit expanded upon, and seeing Mu's corrupted self is the main cause for the protagonist awakening his own powers in order to protect her.
So that updated version of the game is being brought over to the West

Buuuuuuut

Atlus isn't doing it this time. NISA got it. So expect the usual that comes with them bringing over a game.

ZeroStormZZ




Posts

: 1015


Join date

: 2015-11-03


Age

: 25



Please explain. I don't play NISA games.

Hornofdesolation




Posts

: 239


Join date

: 2012-07-21



They are bafflingly good at adding game breaking bugs that weren't in the original version. Their localizations also vary in quality. There's a famous one where they changed a character's name to Esty Dee so her name would be an STD joke. And their handling of Ys 8 just recently can only be described as abyssal.

ZeroStormZZ




Posts

: 1015


Join date

: 2015-11-03


Age

: 25



---
Permissions in this forum:
You
cannot
reply to topics in this forum