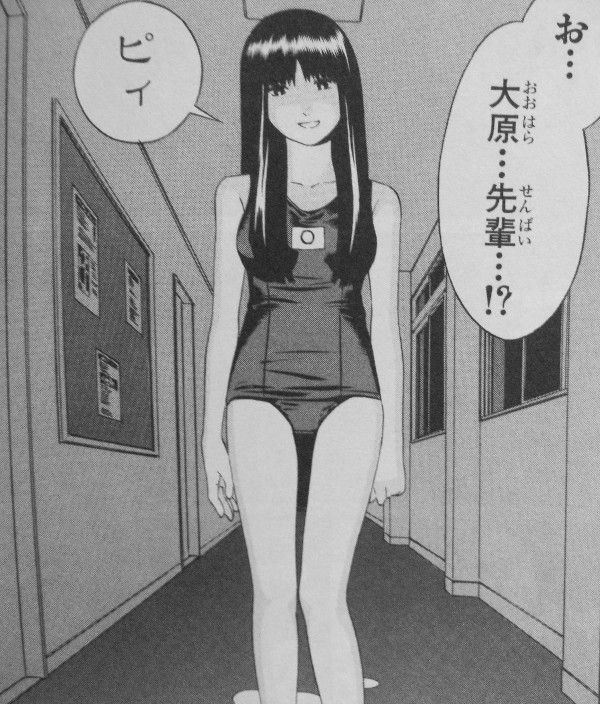 Okay, just a heads up, this is a horror manga and there is some blood and implied flesh eating.
Now, with that out of the way, I will say it's a interesting twist on a old tale, and does have it's moments.  Basically there is a book that states if you get the flesh of a mermaid in this abandoned school, the person you love will be yours.  This is based on the tale of the ningyo, which is essentially a japanese mermaid and the tale is somewhat similar. http://en.wikipedia.org/wiki/Ningyo  You have to recite a spell at the at the abandoned pool at night to start the hunt.  However, these aren't your typical mermaids, they're gleefully squeaking girls in school swimsuits, each with a letter on them.  You have to catch one that has the letter that starts with your crush's name.  The mermaids themselves treat it as a game, gleefully running from those girls that seek to win their loves affection, however, with all things horror, there is a catch...  You can either find it out by reading the story(which isn't too bad and has minimal blood) here
http://mangafox.me/manga/school_ningyo/
http://www.tenmanga.com/book/School+Mermaid.html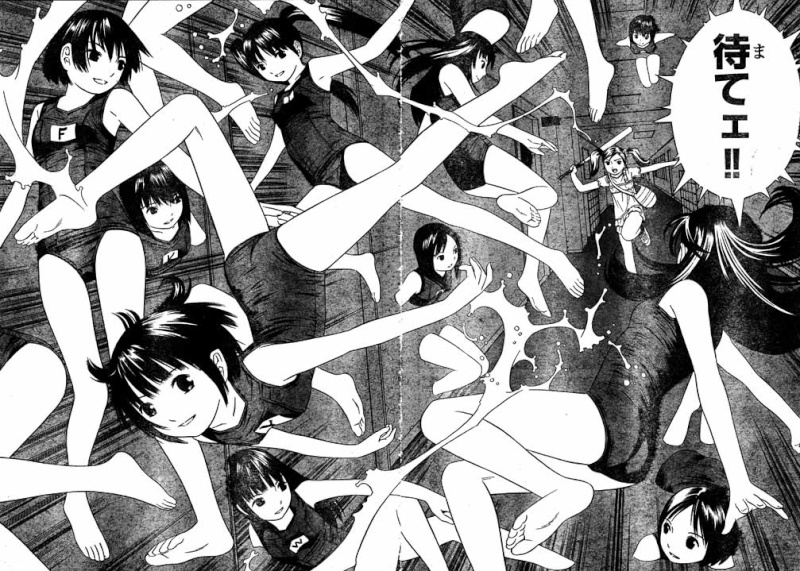 Or you can read the following spoils along with a pic and my thoughts on the matter
Spoiler:

The catch is if you don't catch and eat the flesh and the sun rises, you become a mermaid too.

The basic horror element comes from the fact that the girl's "friend" is a bitch who has the derpest evil grin ever.  She saw this happen to their former classmate(pictured above), and tried to catch one on her own, but failed and settled for one of the "slower ones" since the one with her true crush's letter are all too fast for her.  She plans to convert her "slow" friend since she has the same beginning letter as her crush and return to catch her.

Now, I would love to think that she got what was coming to her in the end and wasn't able to catch her friend, and thus was swarmed by groping mermaids and made a blissed out mermaid too through tons of yuri sex...  Granted that does sound too good for her, but I'm not evil, just poetic with yuriness...  

Rainday




Posts

: 3970


Join date

: 2012-04-27



So apparently, Akihito Yoshitomi did more of this. (Up to chapter 18, I think all but the last chapter have been translated into english.)
Chapters 4-6 involve Toshiko (good girl) and Naomi (bad girl) teaming up to hunt mermaids.
Spoiler:

Naomi decides to try and kill Toshiko, as well. In chapter 6, time runs out and they end up eating mermaid flesh and making themselves fall in love with each other. There is a nice kiss at the end, but it gets into Guro territory, since their mouths have mermaid flesh and blood in them.
Chapter 9 deals with Mariko and Kaori. Mariko feels guilty that Kaori has become a mermaid, so she tries to find her.
Spoiler:

Kaori willingly gives a piece of her flesh to Mariko, but Mariko decides to stay with Kaori as a mermaid, instead.

vesago_x




Posts

: 137


Join date

: 2012-05-06


Age

: 38



Thanks for the heads-up that there was more of this!

As a further note, there's a lot more than one chapter left to translate, it's just that the scanlation teams start counting from the original three-parter while the people with the raws count from the new series that started around last year (basically, what sites like Mangafox call Chapter 17, they call Chapter 3). Hopefully the rest will get a translation soon - there's a lot of stuff I'd like to know the context of.

And by that I mostly mean the part where Shinobu seems to have hallucinations of the mermaids following her around and making her float while she dreams.

Quartz Falcon




Posts

: 155


Join date

: 2012-09-02



Similar topics
---
Permissions in this forum:
You
cannot
reply to topics in this forum