Aka The Seven Deadly Sins by Hobby Japan or Sin Nanatsu no Taizai
Little pre-statements:  All main character of this show are female, so think Queen's Blade.  Unfortunately all stuff that is too risky is censored by summoning circles at the moment(like Valkyrie Drive, but not as blinding), so wait for the Blu ray release or the english release.  This show is also being dubbed on Funimation. Also, the first episode establishes a lot of the setting, so I'm basically going to describe it in detail, so if you don't want spoilers or want to actually want to see the sexy stuff, here you go
http://www.crunchyroll.com/seven-mortal-sins/episode-1-the-proud-fallen-angel-734739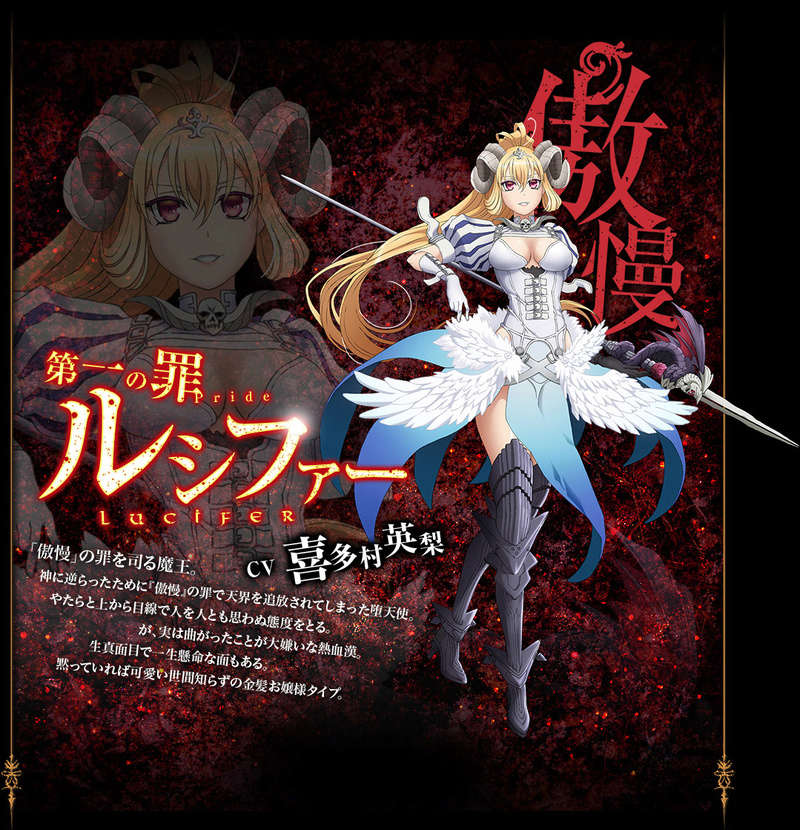 Basic plot synopsis:  In a modern day setting Lucifer is banished from Heaven for her sin of pride and rebelling against god who she despises for their lofty nature.  As she falls to hell she slams into a church where she encounters the pure hearted maiden Maria Totsuka praying.  As the fallen archangel begins to descend even further she transmits her angelic power through blood, giving her the "life of a angel".  From there she descends to hell and encounter the not quite mortal sin of envy, Leviathan, who instantly falls for her and saves her from the freezing abyss of hell(who proceeds to have her way with the still crucified fallen angel 4:44-5:44 ep 1).  Leviathan ask in she will take over hell with her but Lucifer refuses to be ruled by anyone and bucks her off.  Unfortunately Levi has already from this reality in her head with the Archangel she so admires and proceeds to go yandere on Lucifer, but it quickly stunned into submission when Lucifer reveals her power and proclaims love for her onee-sama.  Levi then stats from now on she'll follow Lucifer and ask of her to make Levi, and the rest of hell, hers(while groping her ass) to which Lucifer just gives up on and accepts(7:39-8:33).
From there Levi takes her to Pandemonium where the 7 Mortal Sins rule and gets into a bit of a  scuff with the sin of wrath, Satan and is introduced to the 4 other sins, greed, lust, gluttony, and sloth... And yes, I'm aware that they keep calling them the seven demon lords/Mortal Sins even though there are only 5 present(since Levi has admitted she she's not a Sin yet) but I'm not sure weather to blame that on Levi or the shows writers.  But wait, one is missing!(which still only makes 6)  As Satan is about to launch her attack she is stopped by their leader, the sin of vanity(who really live up to it), "Belial-sama".  During their conversation it is revealed that there are also 7 Heavenly Virtues, which Lucifer use to be a member of.
As their conversation is drawn to a close Belial proceeds to command the other "7" mortal sins to attack, who proceed to ignore her.  Belial says she will take care of it. Meanwhile Maria gets fondled by her best friend and ask her to become her wife(unfortunately followed up by a "just kidding").  From here Belial sees Lucifer as a threat to her rule and attacks, while Lucifer pushes Levi out of the way to block it(yay she's not totally indifferent to Levi~).  Then the fallen angel proceeds to break the sword Belial was just boasting about and break her clothing off in the ensuing attack.  From her the other sins begin to see her as a threat and Belial gets a power up/sexy outfit change from her demon servant(male voiced but it's basically living armor that doesn't speak again).  This is where Lucifer gets cursed by Belial with a spell that weakens her power substantially that looks like a bunch of skeletal hands grasping her naked form.  Worth a note that it is later revealed that for every demon lord she defeats/surrenders to her, one of the hands will fly off bringing her closer to breaking the curse(not sure if she get's more power from it with each one as of yet).  She proceed to fly away with her angelic wings as Belial commands the others to capture her. As she's felled by the others, Asmodeus, the sin of lust proceed to get close and mention how much she's looking forward to doing it with an angel, and proceeds to give her puff puff(18:12-18:43).
Lucifer proceed to complain that she has to be tortured because of her angelic wings to which Belial helps her with and proceeds to remove one of them, to which the other sins get upset over the torment.  As she slices off the other one the other sins proceed to leave, but are stopped when Lucifer ask them to stay as the removal of the wings allow her to become a demon lord(so a willing EC), growing horn and announcing herself as the sin of pride(19:10-20:25). She make her escape with Levithan joining her as they escape to earth(with one final humiliation to Belial).  
We see Maria at the spot where Lucifer fell as a pillar of dark energy appears revealing a weakened Lucifer with Leviathan hovering over her worried.   Maria recognizes Lucifer who proceeds to stab her with her lance, ripping out her heart.  As to not keep you waiting in suspense, Maria is not hurt and Lucifer uses her heart to control her, pretty much enslaving her and allowing her control of her body(more of that in episode 2).  From there it is revealed that because of the powers she bestowed to Maria before her fall to hell, the school girl can act as a radar to help her find the other demon lords.  Maria also gets eternal youth and beauty out of the deal, but because of her pure nature isn't too happy about it, however because of her power she becomes the apple to many a demon lord's eye.  
CHARACTERS
Until I get a chance to copy/paste this stuff, here's the character page if you want to know who's who.(english names are in the profile as well)
http://www.7-sins.tv/index.html#characters
SPECIALS
http://www.7-sins.tv/special/movie/list00000000.html  I'm pretty sure these will pop up on youtube translated, but for right now here they are from the source.
WEBCOMIC
I haven't been able to give it a look but it should have some fun stuff in it http://hobbyjapan.co.jp/comic/series/taizai/      
But yeah, the real relevant stuff comes with episode 3, Beach of Lust.
Last edited by Rainday on Wed May 17, 2017 11:26 pm; edited 1 time in total

_________________
AKA Allan, lurker3009, Swacorpse, current acting moderator of forum/group, feel free to contact me with any questions
Where I find and source pics.
http://swacorpse.deviantart.com/ , http://www.pixiv.net/member.php?id=976522
http://raindayofmay.tumblr.com/ , http://www.hentai-foundry.com/user/Rainday/profile
https://groups.yahoo.com/neo/groups/charmed_by_hypnosis_haven/info

Rainday




Posts

: 3970


Join date

: 2012-04-27



Since I didn't want spoilers I haven't read the chunk of your post.
Though I am definetly interested in this series.
Always open for some good corruption.
Maybe? :O
EP 2. Now that I got the setting out of the way I can do this simple, plus the ones in this one are short.
Villainess: Lucifer, Leviathan
Victim: Maria
Method: Heart, Water
Effect: Body control, arousal
Time: 1:33-3:25(Heart taking and explanation of how it works) 7:21-8:56(The heart's new home and more explanations, and then some sexy Lucifer stripping followed by Levi fondling) 8:57-10-18(Maria trying to take her heart back, and then being forced to strip via body control and join them) 11:14-12:07(More forceful explanation with Maria underfoot) 15:48-20:40(Levi's water tentacles proceed to grope Maria in the presence of a "stranger" to see how far she can go before she submits to the pleasure and "crush her mind") BONUS 21:12-22:00(Lucifer activating Maria's power)
I love Leviathan and wish her the best of luck. Lucifer does at least let Levi show her affection for her to a point(she'll let her hold onto her arm and play with her body a little). But yeah, the whole body control scene as well as the explanation is done well and with plenty of sexyness. Levi goes full yandere mode to, but it's a nice gradual build throughout the episode. It has a satisfying conclusion too, to me at least.

_________________
AKA Allan, lurker3009, Swacorpse, current acting moderator of forum/group, feel free to contact me with any questions
Where I find and source pics.
http://swacorpse.deviantart.com/ , http://www.pixiv.net/member.php?id=976522
http://raindayofmay.tumblr.com/ , http://www.hentai-foundry.com/user/Rainday/profile
https://groups.yahoo.com/neo/groups/charmed_by_hypnosis_haven/info

Rainday




Posts

: 3970


Join date

: 2012-04-27



Pretty sure I've seen word that the people who are working on Seven Mortal Sins are the same who worked on Queen's Blade. Which makes sense, considering the content.

Anyway, I'm waaaaaaaaaaaay behind on my anime, and this show is one of the ones I was following, so I need to get back to watching. I'll probably get started this weekend.


DrgnmastrAlex




Posts

: 961


Join date

: 2012-04-27


Age

: 34


Location

: California, United States



Warning: It is highly suggested you just watch the whole episode because the whole thing just drips with mind numbing lust.  That being said, I'll still give out times.
Episode 3
BEACH OF LUST
http://www.crunchyroll.com/seven-mortal-sins/episode-3-beach-of-lust-734743
STARRING
Asmodeus~!!
Villainess: Asmodeus
Victims: Beach Goers, Club Goers, Maria, Leviathan, and Lucifer
Methods: Sex appeal, Pheromone Wind, rafflesia(aphrodisiac)
Effect: overpowering lust that makes you give in to her, (rafflesia) overwhelming sensitivity and bondage
Time: 2:47-4:02(explanation of what's she's doing at the beach and her using her natural allure to draw out lust from her victims)
5:07-5:24(Asmodeus asking everyone to get aroused and people making out)
6:04-6:58(The rivals meet, and Lucifer sees she just using her natural sexy appeal on the people of the village, and uses Maria to battle her in that department)
7:28-8:31(Levi summons her sea creatures to do battle with Asmodeus, only for the demon lord of lust to make an impassioned speech of love and reveal her true power, Pheromone Wind, Lucifer stops the two from fighting and retreats, realizing that here on the beach in Asmodeus's territory)
9:06-12:43(Asmodeus's performance, Leviathan challenges her to try to seduce Lucifer, only for it to backfire on her as Levi is bewitched by her.  Levithan develops feelings of lust for Asmodeus as she instructs her how pole dancing is really done, and passes out with a cry for her Onee-sama.  Maria walks up to the stage and Asmodeus begins to target her, only for Lucifer to declare that nothing she does could tempt Maria, meanwhile Leviathan is stuck battling dreams of lust crying out for Lucifer)
13:02-16:22(Lucifer steals Maria away, dresses her up in lingerie, nipple tassles, and a ties her arms behind her back with the addition of a blindfold. She proceeds to seduce her, really, really in depth, and succeeds as Maria breaths a sigh of submission before Lucifer breaks in)
16:40-20:14(Lucifer challenges Asmodeus to a fight, and she summons her giant demonic rafflesia to attack her, Lucifer strikes it's vines down, only to hit with it's aphrodisiac that melts her armor away and causes her to fall to her knees from it's overpowering aroma!  From there the vines bind her for Asmodeus to play with, where she reveals she rubbing her two between her fingers is enough to cause her to scream in pleasure.  She proceeds to massage her more and tease her in all sort of sexy ways.  She also reveals that Levi is undergoing a similar enslavement, and then use her Pheromone Winds on Lucifer.  Then Lucifer proceeds to state how lust isn't a sin to her, she finds it cute and says that Lust shouldn't be a mortal sin, thus giving Asmodeus a feeling of acceptance, and she actually get's turned on by her purity and passes out from her "release".)  
So yeah, favorite episode, favorite incarnation of the sin of lust. Not just men, but women lust after her two, there is even a lesbian couple, or two good girls doing as she desires with each other =)  She practically has to give up from Lucifer's sweet talk in order for the "good gals" to win.  But in the end, I actually kind of liked that speech...
BONUS: Asmoedus getting it on with Lucifer and Maria
http://danbooru.donmai.us/posts/2718592?tags=asmodeus_%28the_seven_deadly_sins%29
http://danbooru.donmai.us/posts/2708377?tags=asmodeus_%28the_seven_deadly_sins%29
Now, is this the end?  No, there is still more mind control to come from Mammon, the Demon Lord of Greed.

_________________
AKA Allan, lurker3009, Swacorpse, current acting moderator of forum/group, feel free to contact me with any questions
Where I find and source pics.
http://swacorpse.deviantart.com/ , http://www.pixiv.net/member.php?id=976522
http://raindayofmay.tumblr.com/ , http://www.hentai-foundry.com/user/Rainday/profile
https://groups.yahoo.com/neo/groups/charmed_by_hypnosis_haven/info

Rainday




Posts

: 3970


Join date

: 2012-04-27



---
Permissions in this forum:
You
cannot
reply to topics in this forum